DavOr Caravan served 6,000 far-flung villagers
Posted on
MATI CITY, Philippines — Villagers from remote areas of Davao Oriental numbering to about 6,000  happily received the foodstuff from the local government.
The August 22 and 23 province-wide caravan dubbed as Nakakaisang Lingkod-Bayan ng Davao Oriental was participated by 37 local and national government agencies.
Government agencies served the villagers from  food to seedlings and other farm implements while medical and dental mission was held.
Residents from far-flung villages such as Caningag, San Miguel, Mercedes, and Don Leon Balante  were served and their concerns properly responded to.
The said villages are isolated and access to government services is wanting.
The legal services of the Public Attorney's Office (PAO) was also available during the caravan.
In his speech, Governor Nelson L.  Dayanghirang promised to provide roads for the four depressed villages.
The villages which need government intervention are known to be lairs  of the communist insurgents.
Providing roads and livelihood programs is necessary as the government wanted a lasting peace, Dayanghirang stressed.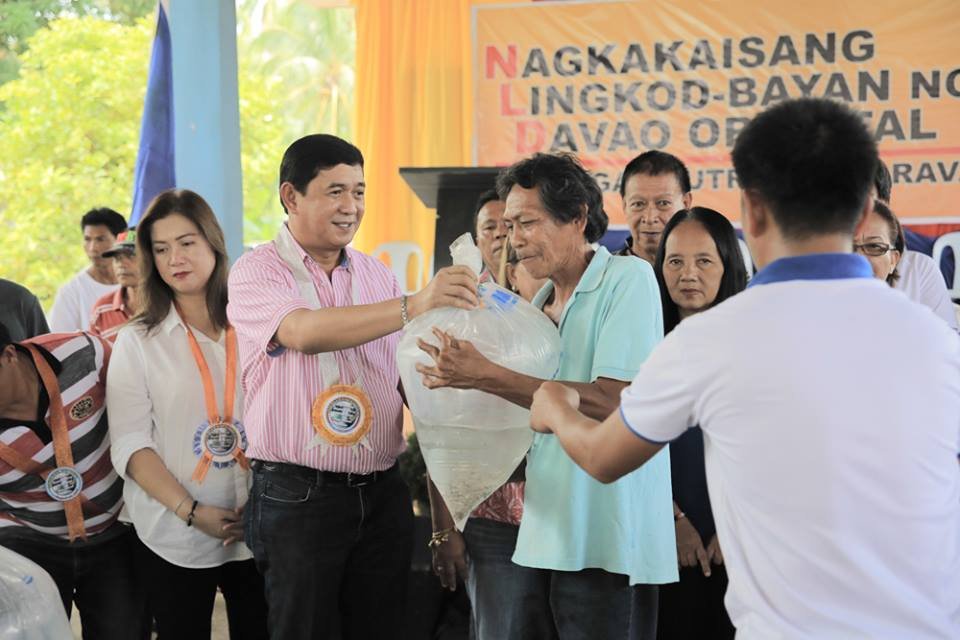 The Provincial Agriculture Office and Department of Agriculture 11 (DA 11)also distributed planting materials and seedlings.
The Bureau of Fisheries and Aquatic Resources on the other hand, gave 30,000 tilapia fingerlings while the Philippine Coconut Authority has turned over a cash incentive amounting to P55,800 for the participatory coconut planting project.
While the Department of Labor and Employment (DOLE) has provided temporary jobs to 40 residents from the four villages under the department's Emergency Employment Program.
The recipients, who were randomly chosen, will be working in their respective barangays for ten days and will be paid at P340.00 per day.
The NLD Barangay Outreach Caravan was also used as a tool in  the capacity building and educating the villages on disaster risk reduction management.
Vidal Masungcad, a farmer from Barangay Mercedes, said  the program should have continuity for villagers to feel government intervention in the midst of their needs to discourage rural folks from joining the communist movement.-Armando Fenequito B.Jr./Newsline.ph