DAVAO CITY, Philippines —  Mixed emotions greeted the heroes of Marawi here as soldiers of the 2nd Scout Ranger Battalion of the first Scout Ranger Regimen came home Thursday.
The entire battalion  were deployed to fight against Maute terrorist group in Marawi City, were given a hero's welcome at the Eastern Mindanao Command (Eastmincom) in Panacan, minutes after they landed in Durian City.
People from all walks of life stopped to celebrate moments of victory with the returning heroes on Marawi.
The event started with a motorcade from the Tactical Operations Group (TOG) at the old Davao International Airport to the supply depot of Department of Public Works and Highways (DPWH).
Then, the soldiers marched going to Eastmincom where their families were waiting. The soldiers were away for six months since the armed operation against the terrorists started.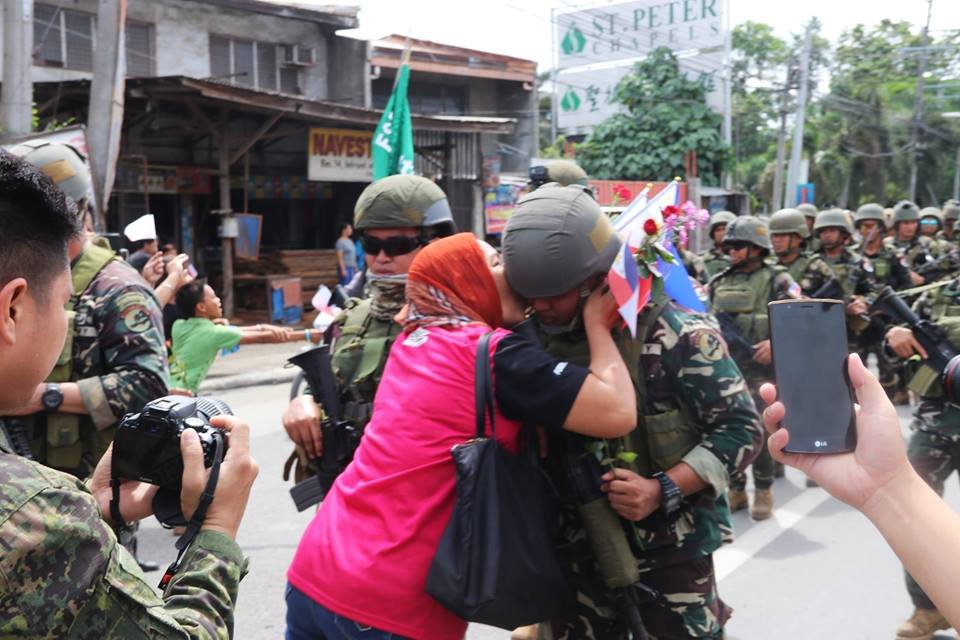 The  troops lost nine  comrades in Marawi with  125 of them  wounded.
Residents of Panacan, the home  of the Eastern Mindanao Command welcomed the soldiers with flowers and flaglets as they come out from the DPWH depot going to Eastmincom where a short program took place followed by a boodle fight.
Passersby and commuters cheered as the soldiers passed their way, some offered roses to soldiers they don't even know personally.
Anatess Pamara, a student from Compostela valley Province shouted "Sir, Salamat  sir, Mabuhay mo (Sir Thank you! Long Live Sir!).
One of the well-wishers was a soldier's wife – Jebel and their five-year-old child, who was wearing a military uniform.
Former Eastmincom Commander Leonardo Rey Guerrero who has just been promoted as the AFP Chief of Staff was represented by  Brig. General Perfecto Rimando, Deputy Commander of Eastmincom, cited the men of the 2nd Scout Ranger Battalion for their contribution to the liberation of Marawi from the terrorists.
Guerrero was named as the new Chief of Staff of the Armed Forces of the Philippines (CASFP) replacing Gen. Eduardo Ano, who retired effective Thursday.
"The Eastern Mindanao command wholeheartedly thank you and your families, for the services you have rendered to the country. You are truly the source of national pride," Rimando said in his speech.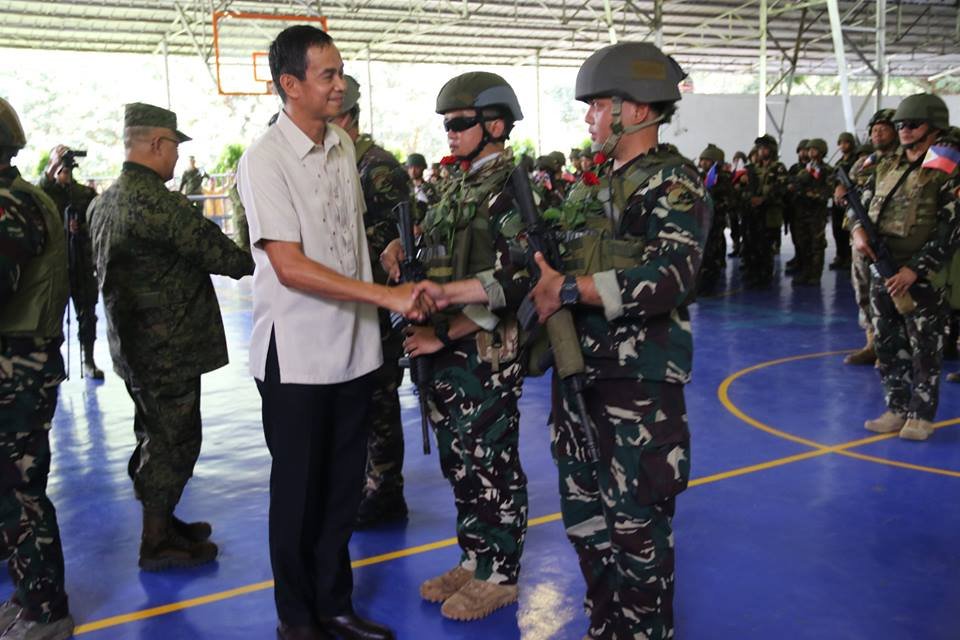 The chief of the Public Safety and Security Command Center (PSSCC), Benito De Leon, a former scout ranger, said the presence of the Scout Ranger Battalion in Davao City will help boost the capability of the AFP to fight terrorism. "With your presence in Davao City, we will go a long way in preventing terrorism in the city," Del Leon said.
De Leon said Marawi City was his first assignment when he was a lieutenant and returned in the area as lieutenant coronel leading the 58th Infantry Battalion during the all-out-war.
"As I watched the destruction of Marawi, my heart was broken but it's really needed," De Leon said.-Editha Z. Caduaya/Newsline.ph with PNA report (photos from EastMinCom)