Philippines? Duterte? Your President is doing good, war on drugs!
Posted on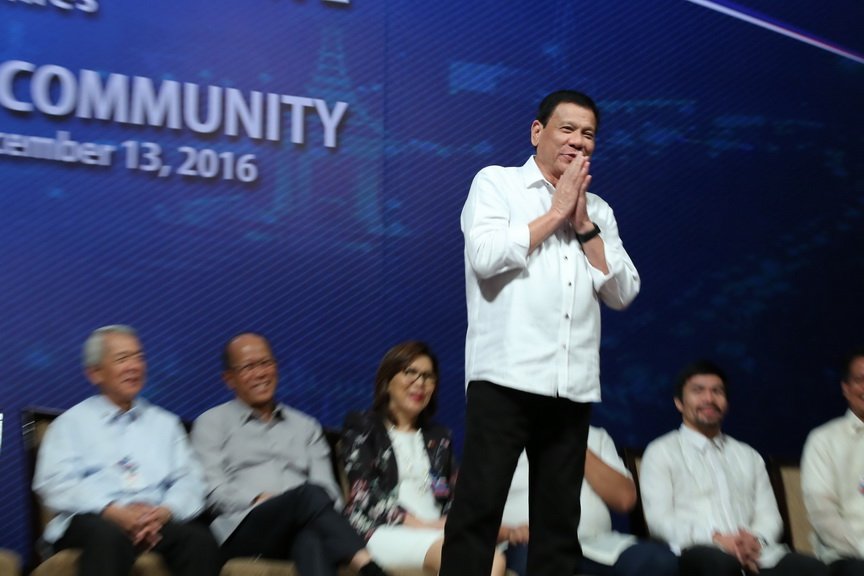 DAVAO CITY– I just came home from a 10-day tourism program sponsored by the provincial government of Xinjiang China.
China was the fourth country I visited in five months.
In every foreign trip I had, I came home with a happy heart and with a deep sense of pride- I am a Filipino, the President is from my city and is doing good for my country.
I might be subjective, but this is my story. Duterte, our president, is a big story for them.
My sense of pride as a Filipino was deeply touched when I visited Solo, Indonesia on February 3 to 9 to comply the twinning program sponsored by World Association of Newspapers (WAN-IFRA) between Newsline.ph and Tribunews.com Solo.
Upon meeting some members of the parliament they asked "You from Philippines? your president is doing great! drugs worldwide must be stopped!"

Rendy Adrikni Sadikin, Editor of Tribunews.com told me "Indonesians are big fans of your president, many admire Duterte here because of his war on drugs."
While having our diner in Jogjakarta, a food chain staff noticed my ID, he then approached me and asked "Philippines? Duterte?" I answered in affirmative.
When I asked why he asked about Duterte? he said "Duterte fight drugs, he is a strong leader."
On February 14 to 19, I was in Myanmar for the Women In News seminar. I was sitting inside the hotel lobby when an old man came to me and took a closer look at my ID and said "Philippines? Duterte good, fighting America!"
While attending the World Press freedom Day in Jakarta last on May 5, my group was looking for good Indonesian food as we ordered our meal, I noticed the food server was wearing a Duterte baller on his right wrist, I started to ask- Is that a Duterte baller? he answered yes and I further asked why are you wearing that? Are you Filipino? who is Duterte to you?
His answer surprised me and my Filipino journalist companions "Duterte good! I go to hotel of Duterte, Shangrila, I asked this (showing the baller), Duterte is good, he hate drugs, I am Indonesian, Duterte good, fighting drugs, good for children."
On our second day, we went to a clothing shop to buy stuff, the owner of the shop asked us, You Filipino? and we answered in affirmative, then the woman owner showed his "Duterte fist" and said " Ohhh, Duterte, a hero, Duterte hero, Philippines, I like him."
Last week, I was in China for the "Approaching the core zone (Xinjiang) of silk road economic belt" program.
After watching the performance of Changji City Huar Art Troupe, we were given the chance to interview the performers, when I was introduced as representative from Philippines, the artists unanimously said "Philippine-Duterte? Duterte good!."

The Xugur, Xinjiang Artist say they love Duterte because he loves his people.
Even my fellow journalist from other countries admire our president describing him as a strongman because of his war on drugs.
In all those trips, Duterte-the Philippine President- is always a big issue, people adore him and admire his war against drugs.
For some, Duterte is the mouthpiece of the "enslaved" Asians who suffered being treated as second class citizens, Duterte did not hesitate to castigate then US President Barrack Obama and lately the European Union and the United Nations and other big leagues in the world for intervening the affairs of the country.
I take pride as foreigners praise and admire Duterte's fight against drugs, as I listen to the cry of the bleeding hearts in my country.
Duterte's critic here picture the 72-year-old leader as misogonist, a killer, a mass murderer, a human rights violator.
But for non-Filipinos abroad, Duterte is a hero, a strong leader and good man.
I know he is not a perfect leader but he is adored for protecting his people.
Next time you visit foreign places, bring with you a small thing with Philippine identity and expect foreigners to ask –You Philippines? Duterte? The answer is yours.-Editha Z. Caduaya/newsline.ph