PH P3.35-trillion 2017 budget signed into law
Posted on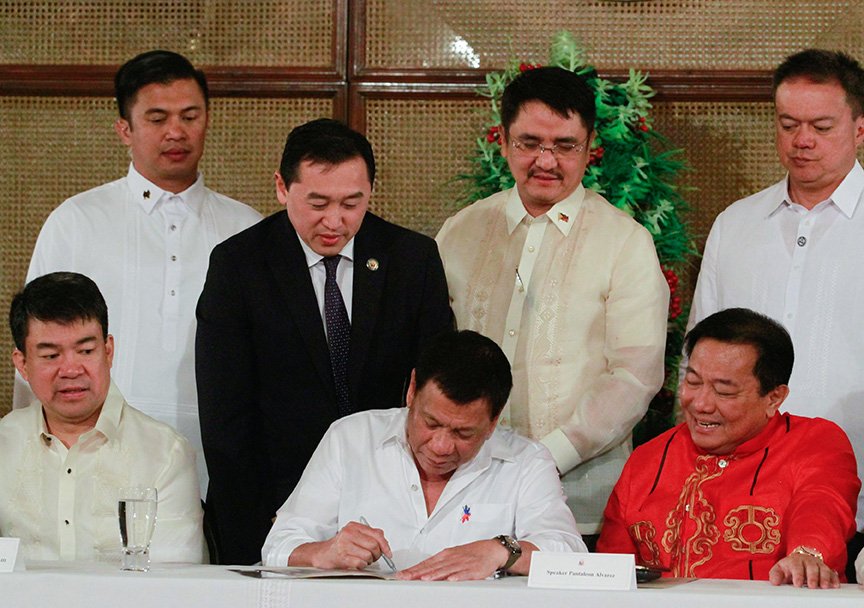 MANILA, Philippines— (UPDATED) – President Rodrigo Duterte Thursday signed into law Thursday December 22, the P3.35 trillion 2017 budget as reflected in Republic Act 10924 or the 2017 General Appropriations Act (GAA).
Next year's budget is 11.6 percent higher than the 2016 budget.
The biggest part of the budget goes to the department of Education (DepEd) with P544.1 billion reflecting P111 billion increase compared to the P433 billion for 2016.
Bulk of the budget is distributed for the maintenance of basic education facilities, create teaching and non-teaching positions as well as develop and provide learning resources to more than 20 million Filipino students¬ in the country.
The department of Budget and Management emphasized "Deserving Filipinos will be given access to tertiary education through the P58.72-billion allocation for state universities and colleges (SUCs) and the P18.7-billion allocation for the Commission on Higher Education (CHED)."
The President thanked lawmakers as well as the Department of Budget and Management (DBM) headed by Secretary Benjamin Diokno for a budget that is "pro-people, pro-investment, pro-growth, and pro-development."
In his speech, Duterte said the budget will benefit "the poor, the vulnerable, and those in the countryside."
It is a budget for "real change," one that "represents the bold plans of the Duterte administration," the DBM said in a statement.
President Rodrigo Duterte thanked the lawmakers for passing the measure saying "As I promised, I will provide huge budget for Education, I want public education totally free."
Duterte wants free education of government's state, universities and colleges.
The allocation also showed an increased budget for infrastructure, universal healthcare, irrigation for farmers.
The Department of Agriculture (DA) got P45.2 billion, while the Department of Agrarian Reform (DAR) received P9.8 billion.
The Health Department has earlier said by 2017 poor Filipinos will benefit free hospitalization.
Duterte said farmers will no longer have to pay irrigation fees, because these will be shouldered by the National Irrigation Authority (NIA) which was allocated P38.4 billion.
A budget for , P850 billion was allotted for the construction of road networks and transport infrastructure to ease conduct of business and mobility of people.