Priest sells fish to build church
Posted on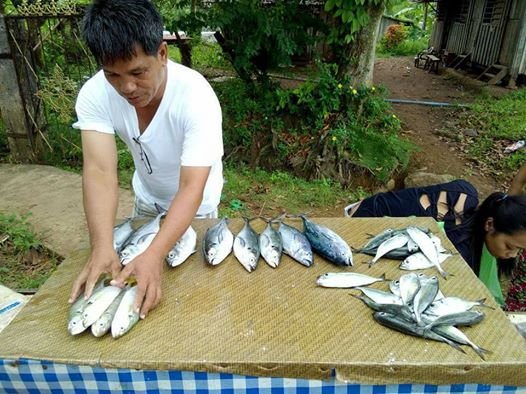 DAVAO CITY, Philippines —Can you imagine your parish priest selling fish to help his parishioners build their church?
Yes, a priest from Basilan does.
"I am selling fish everyday to augment the need to construct our church," says Fr. Joel Silagpo of the 37-year-old San Antonio de Padua of Sta. Clara. Lamitan City, Basilan.
The church is located at the center of the city, thickly populated with Muslim communities with 3,000 registered voters. "We are a small community but our project is big, so we need to have an undertaking to help build our church," Fr. Silagpo said.
The church of San Antonio de Padua was constructed in 1980 and it is made of wood and has been rendered dilapidated.
It was a collected decision of the community to construct a new church just beside the old structure which cost them P9-million.
For a parish with only P110,000 fund on hand, constructing a new church is next to impossible but it is a dire need.
The Parish Pastoral Council applied for a foreign grant to build the church but the fund granted was not enough to cover the labor cost.
How it started?
In the morning of March 16, 2017, Fr. Silagpo recalled: "I went to the 'Bagsakan' to buy fresh fish for our consumption, there I saw the opportunity to raise funds through fish vending, then, I called on the PPC for a meeting and told them the idea of selling fish as a fund raising activity, gikataw-an ko nila, gi-ingnan ko—Fr? maninda ka ug isda? dili ka maulaw? pari man ka? (they laughed at me, they told me, Fr? you will sell fish? aren't you ashamed? you're a priest), but I told them, I can sacrifice for the church because our church is dilapidated and we need to source out funds."
"I need to do this or else the laborers won't get paid as we need to shell out P20,000 weekly for the labor," he explained.
The church leaders then agreed to allow him to borrow P7,000 as a start up capital. After a week, Fr. Silagpo returned the capital to the church coffer.
This time, he is using his earnings to buy fish at the local port.
In a day Fr. Silagpo earns at least an average of P1,000 to P3,000 "during payday, we earned a bit higher."
After a month, Fr. Silagpo and the youth group recorded P15,000 earnings and a collectible amounting to P6,000.
At the end of the month, Fr. Silagpo will turn over P20,000 cash enough for one week salary for the construction workers.

Building friendship among Muslim fisher folks
"Everyday I meet new friends, they give me special price," he gladly narrated. Muslim traders know Fr. Silagpo is in for a noble cause.
He drive 15-kilometers away from his parish via multicab to Basilan Public Market, where fisher folks sell their catch. "Most of them are Muslims and we became friend because I buy their catch. I met new friends everyday. We are friends regardless of our religious belief and affiliation, sometimes they also shared their plight as some unscrupulous middlemen took advantage of them by taking their catch at a very low price, others went home with penny because they already took cash advances from the middlemen."
"When I am with them we talk about life, their journey and we never talked about the religion, because we respect each other's belief, I learned from them and maybe they also learned from me, we build friendship and break our religious barriers," Fr. Silagpo added.
The Muslim traders give him special price because they know "I am selling fish for a cause and they understand what I am doing," he narrated.
Fr. Silagpo sells ordinary and expensive fish to different clients.
Aside from selling fish, the local government also allowed them Bingo games for a cause which has become a monthly activity. Fr. Silagpo said,  "sometimes we earn P80,000 sometimes P100,000 in an activity."
"In our funds, I am not a signatory, because I just help them raise it and the accounting and disbursement belong to another group, even in our bank account for the fund raising, I am not a signatory to ensure there is transparency," he added.

You can help
Fr. Silagpo said,  "we welcome all support, they just deposit the money to Philippine National Bank of Basilan under the account #53-493-680002-8, San Antonio de Padua parish funds for construction."
When asked why does he need to do it by himself? Fr Silagpo said, "if Christ can sacrifice for His people, then, I am just doing my share to my community."
"While we are building our church, I am building good relationship with my Muslim brothers, it makes me happier."-Editha Z. Caduaya