Hongkong DH produce three professional kids
Posted on
DAVAO CITY, Philippines – Althea Ori, a mother of three. A proud Overseas Filipino Worker.
Althea describes herself "I am 58, but look at me! I am full of energy, I am a proud  DH!"
At age 33,  Althea  left her family to  work as domestic helper  for seven years in the middle east while her mother  looks after  her growing kids.
"I asked my mother to look after my growing children  even if it hurts because I cannot entrust them to my husband who is fond of drinking with friends and a gambler, I decided to go because I want my children to have a good future," Althea narrated.
For 23 years, she did not even bother to pamper herself of anything that a woman needs "lahat pinapadala ko sa pilipinas (I send everything to the Philippines).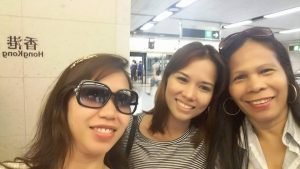 "I experienced working with abusive employer, sleeping few hours and irregular meal. There was a time, I almost gave up because I work alone in a big house but I told myself  if I give up what will happen to my children, they will ended up being DH also, "Napaiyak nalang ako" ( I just cried), and I  told myself kaya ko ito" (I can do this), she narrated.
"Parang sinasaksak ang dibdib ko, sa tuwing naririnig ko sila habang papasok ako sa airport, ayaw kong lumingon kasi nasasaktan at naaawa ako, pero kung hindi ako aalis wala din silang kinabukasan at ayokong tatanda silang katulad ko, dapat maayos ang buhay nila," she added.
(I felt like being stabbed in my chest every time I enter the airport, I don't want to look back because It will break my heart and I pity them but if I will not leave they won't have good future, I don't want them to grow old like me, they should have good life).
When her eldest daughter graduate in college, she asked her to work in Hongkong as DH while waiting for her appointment with the Department of Education.
"First day  palang niya, iyak sya ng iyak, tumatawag sa akin, pero hindi ko siya pinuntahan dahil nasa trabaho pa ako, kinagabihan pinuntahan ko siya, nag usap  kami, humagolhol sya, tinanong nya ako-mama ganito pala kahirap ang buhay mo? hindi ko ito kakayanin, uuwi nalang ako sa Pilipinas, naawa ako sa anak ko pero may kontrata sya, sinabihan ko- tiisin mo lang, sinabihan ko siya ako dalawang decada tiniis ko para lang  makatapos kayo, nag iyakan na kami" teary-eyed Althea narrated.
(On her first day, she kept crying, she called up but I cannot see her because I  was at work, that night I came to see her. We talked she cried hard, she cried hard and asked me-"Mama" is your life this difficult? I cannot bear this, I want to go home to the Philippines, I pity my daughter but she has a contract, I told her to endure. I told her I endure two decades for you to finish your course, we crying).
LONG DISTANCE RELATIONSHIP
Reports of cheating partner is not new to her "sabi ko sa sarili ko, bahala siya, matanda na sya.  ang importante ang mga anak ko (I told myself, it is up to him, he is old enough, what is important to me is my kids.)
But for Althea, "ang mga anak ko ang nag-disiplina sa asawa ko (my children disciplined their father."
Of her three kids, Vernette, the eldest, is now  teaching in  Pasig National High School, Oliver is now a sailor, and the youngest  Jennelyn is teaching in San Juan elementary  School.
Her husband is now the nanny of his two grandchildren.
PROUD DH: A profession
Althea takes pride being a DH "Dh ako, taas noo! dahil itong profession na ito ang nakatulong sa amin para makatapos at naging professional ang mga anak ko."
(I'm a DH, heads high! because this profession has helped us for my children to finish their studies and became professionals).
Message to OFW families and children
Everytime she hears stories about OFW children quitting school or figured in a social problem, Althea can't stop getting emotional.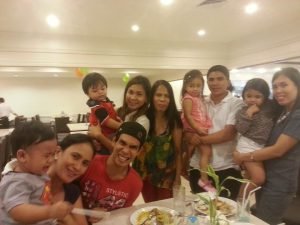 HAPPY TOGETHER: The Ori family takes pride of having a hardworking mother althea.
"Hindi lang alam ng mga anak namin ang hirap at sakripisyo na pinagdadaanan namin para lang makapadala ng pera sa kanila, dapat isipin nila, naghihirap kami dito para sa kanila (Our children does not know  the hardship and sacrifices we go through just to send money to them, they should also think, we work hard  because of them)."
"Dapat magpadala din sila ng magagandang messages, hindi lang puro hingi ng pera at problema ang mga text nila, nakaka-depress yon. Sana magpadala din sila ngn text na I Love you, mag-ingat ka dyan, miss ka na namin- at sana yong mga grades nila," she advised OFW families and children.
(They should send inspiring messages, not just message asking for money, telling a problem, it is depressing. They should also send text messages-I love you, take care, we miss you and their grades).
As it is now, Althea still works in Hongkong but can now enjoy her earnings and she saves for her retirement "Of course I will retire in the Philippines with my grandchildren," Althea proudly announced.-Editha Z. Caduaya/Newsline.ph