President Duterte to issue executive order for 'endo'
Posted on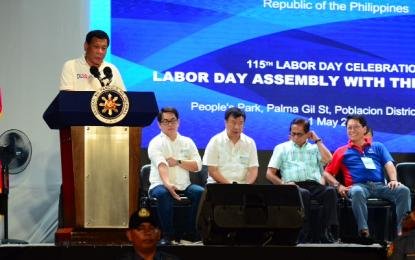 DAVAO CITY, Philippines – President Rodrigo Duterte announced Monday during the celebration of Labor's Day here that he will issue an executive order directing employers to strictly implement the end of contractualization (endo) or labor-only contracting jobs.
The President also asked the Department of Labor and Employment (DOLE) to deputize trade unions to strictly monitor the implementation of the executive order and urged them to submit nominees to the monitoring body.
Duterte also committed to ratify the International Labor Organization (ILO) Convention 151 that will protect the rights of the employees to organize and their security of tenure. He will submit this to the Senate for ratification.
Duterte hoped it will serve as a "symbol of government's commitment to continuously uphold the aspiration of a corrupt free civil service."
Duterte's decision came after more than an hour of dialogue with labor leaders at the People's Park in Davao City. Some 5,000 workers gathered for the 115th International Labor Day. It was the first time in recent history that the national government leadership celebrated Labor Day with workers.
The issuance of the executive order indicates the President's firm commitment against contractualization and the strict enforcement of the provisions of the Labor Code.
The issuance of the executive order was the top agenda in the 11-point agenda sought by the labor sector to supercede Department Order (DO) 174, which sets the guidelines for contractualization.
The President recalled he asked the labor sector to give government more time to the endo campaign in consideration to businesses with seasonal workers, especially those engaging in exports.
In an interview Monday, Labor Secretary Silvestre Bello III said there were already 50,000 workers who were regularized after the President's order to end contractualization.
(Lilian C. Mellejor and Funny Pearl Gajunera/PNA)