WHO cites Philippines' health achievements
Posted on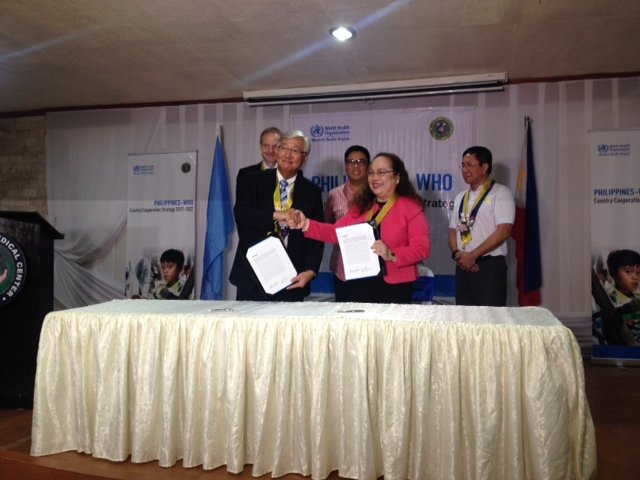 TAGUM CITY – A World Health Organization (WHO) official on Thursday cited the Philippines' health achievements.
Dr. Shin Young-soo, WHO regional director for the Western Pacific, highlighted that life expectancy in the Philippines is at least 70 years (68.27 years in 2014); less than a million Filipinos are smoking compared to six years ago; the increased tax tobacco tax has pushed back unhealthy behaviors and tripled the health budget; and, more than 92 percent of all Filipinos now benefit from the national health insurance.
Shin said this during the signing and launching of the six-year health strategy geared towards advancing the Philippines' contribution to global health agenda at the Davao Regional Medical Center here.
At the same time, Shin urged the government to address the lingering health challenges in the country like heart, diabetes and cancer diseases.
Shin noted that the Philippines is a fast growing economy, yet with its growth and changing lifestyles, challenges of non-communicable diseases remain.
The official also noted that around 30 percent of children are malnourished and around 30 percent of the population lack regular access to essential medicines. <"Sustaining these improvements and supporting the Philippine government to address other pressing challenges will be at the heart of WHO's work in the country in the next five years," Shin said. Health Secretary Paulyn Jean Ubial said the Philippines-WHO Country Cooperation Strategy (CCS) 2017-2022 will serve as a guide for the Department of Health to achieve the vision for the Philippine Health Agenda. The agenda has three core components: interventions for all life stages that promote health and wellness, access to health interventions and financial freedom when accessing health interventions. Ubial said the country's vision is aligned with the global call for sustainable health care. Ubial cited Davao's health delivery network that is responsive to local health situation, such as the "Kangaroo Mother Care" or "Unang Yakap," a cost effective method that brought down child morbidity birth rate in the area. The health secretary appealed for public support to the government's health programs. "Health is everyone's concern. I see the need to mobilize all segments of society," Ubial said in her speech during the signing of the CCS. Ubial also lauded WHO for its continued support to the Philippines. She said WHO has been "a proven and tested partner of the Philippines and has a key role in the country's window to global health." Dr. Shin Young-soo said the signing of the strategy is an indication of the strong collaboration between the Philippines and WHO. The CCS is a mechanism that defines WHO's strategic framework aligned with national health policies and programmes, and complements the DoH's pursuit of better health outcomes. Shin said sustaining health improvements and supporting the Philippine government to address other pressing challenges will be at the heart of the WHO's work in the next five years. (PNA)