Davao City: Zero Crime, 24-hours after Martial Law declaration
Posted on
DAVAO CITY, Philippines– Police blotters here are empty.
The pages of the official logbook or blotters in various  police precincts are empty, there was no reported crime in the city during the last 24-hours since Martial Law was declared.
The  police office showed GMA Davao's 24-Oras the transmittal of their logbook reflecting the supposed crime reported in various precincts, it says "NEGATIVE".
People of Davao are known to be law abiding.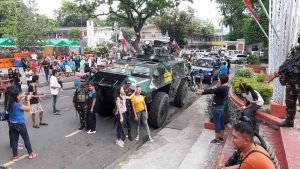 When the military's  "Simba"  dropped by at City Hall May 24, civilians were not scared, netizens took "selfies" and enjoyed the display.
City Mayor Sara Duterte-Carpio said there is no reason for a citizen to fear Martial Law as long as they are law abiding.
The Bill of Rights of every Filipino respected.
The Office of the President already submitted to the Senate and the House of Representatives the Proclamation No. 216 "Declaring a State of MARTIAL LAW and SUSPENDING the privilege of the WRIT OF HABEAS CORPUS in the whole of Mindanao."
NO FEAR: Residents enjoy takings photos with the military. Photos credit: Louis Espadera
The City Government of Tagum, Davao City Chamber of Commerce and Industry have declared support to the Presidential proclamation citing the need to secure Mindanao people and their properties under this condition. -Editha Z. Caduaya/newsline.ph