NPA rebels ambush PSG convoy along Davao-Cotabato-Bukidnon boundary
Posted on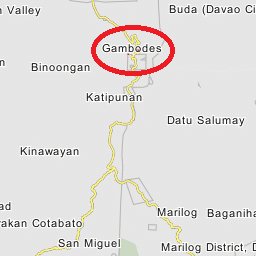 DAVAO CITY, Philippines —Suspected members of the New People's Army ambushed Wednesday  morning a convoy of the  Presidential Security Group (PSG)  along the tri-boundary of Davao-North Cotabato and Bukidnon.
Romulo Tapgos, Municipal Councilor of Arakan valley said the incident happened about 6:30 in the morning Wednesday in   Barangay Gambodes, Arakan Valley, North Cotabato.
PSG Commander Gen. Lope Dagoy said four of  his men were wounded.
EastMinCom's Major Ezra Balagtey said PSG members were ambushed by an undetermined group on Wednesday morning. He said two wounded personnel were evacuated to a hospital in Bukidnon.
Tapgos said reports reaching the Arakan Police revealed the PSG convoy was en route to Cagayan de Oro when they were  ambushed.
The rebels who were wearing military uniform reportedly set-up a checkpoint along the highway and started to fight after reading the PSG logo on the convoy's vehicle.
Barangay Gambodes is along the highway, it is within the  tri-boundary of Davao-North Cotabato and Bukidnon," Tapgos described.
Report reaching Arakan police indicated  wounded  PSG personnel were brought  to the nearest Marilog District  hospital.-EZC/Newsline.ph