NBI arrest Ombudsman investigator over extortion
Posted on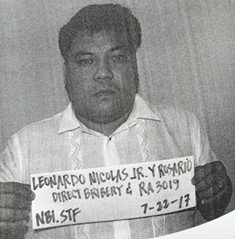 MANILA, Philippines—Operatives of the National Bureau of Investigation  arrested an investigator of the Office of the Ombudsman in Lingayin, Pangasinan  for extortion Friday, July 21.
The arrest stemmed from a report reaching the Ombudsman  that Leonardo Nicolas, an Associate Graft Investigation Officer III (AGIO III), who pretended to be a lawyer tried to extort P3,000,000.00  from local officials in Pangasinan in exchange for the dropping of complaints undergoing fact-finding investigation.
The Office of the   Ombudsman  requested the  NBI  to entrap Nicolas for extortion.
On 21 July 2017, a joint operation was led by the Ombudsman and the NBI in a resort in Lingayen, Pangasinan.
During the entrapment operation, Nicolas together with his cousin, Isagani Nicolas, a labor arbiter from Dagupan, was caught red-handed receiving the marked money.
Nicolas was also caught with a bogus copy of an Evaluation Report purportedly issued by the Field Investigation Office. The fake Evaluation Report was presented in exchange for P3,000,000.00.
The request for assistance was made as part of the Ombudsman's continuing campaign to weed out undesirables in the institution.
On July 22,  the Office of the Ombudsman conducted inquest proceedings against the two.
They are set to face charges for Direct Bribery, violation of the Anti-Graft and Corrupt Practices Act (Republic Act No. 3019) and violation of the Code of Conduct and Ethical Standards for Public Officials and Employees (Republic Act No. 6713).  In addition, they are also facing multiple administrative charges.
Last Monday, July 24,  the Ombudsman issued the preventive suspension orders against the respondents for a period of six months.
In a statement, Ombudsman Conchita Carpio Morales condemned the act and said, "the Ombudsman does not condone any form of corruption among its ranks.  We will not let up in the campaign to remove undesirables in government service."– Editha Z. Caduaya /Newsline.ph