DILG strips governor and 23 mayors supervisory power over police for alleged drug links
Posted on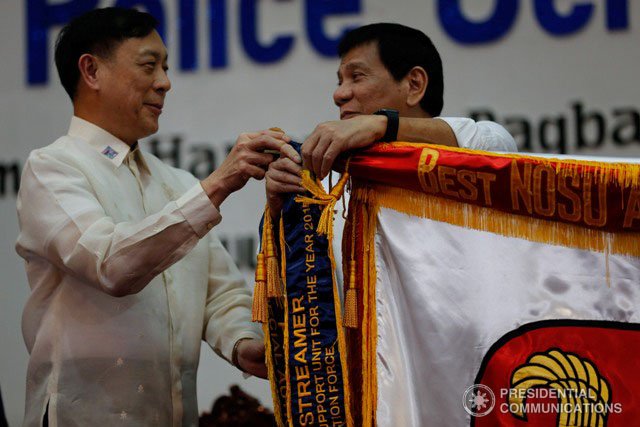 DAVAO CITY, Philippines — The National Police Commission (Napolcom) indefinitely stripped  the supervisory power of a  governor and 23 mayors power over the police  in their respective areas until their names will be removed from the narcolist.
In series of resolutions dated October 30, Department of the Interior and Local Government (DILG) officer-in-charge (OIC) Undersecretary Catalino Cuy ordered the withdrawal of deputation to the following officials:
Zamboanga del Sur Governor Antonio Cerilles;
Sinacaban, Misamis Oriental Mayor Crisinciano Mahilac;
Lopez Jaena, Misamis Occidental Mayor Michael Gutierrez;
Sapang Dalaga, Misamis Occidental Mayor Donjie Animas;
Oroquieta City, Misamis Occidental Mayor Jason Almonte;
Concepcion , Misamis Occidental Mayor Juanidy Viña;
Calamba, Misamis Occidental Mayor Ezel Villanueva;
Santo Niño, South Cotabato Mayor Pablo Matinong Jr.;
Libungan, North Cotabato Mayor Christopher Cuan;
Banga, South Cotabato Mayor Albert Palencia;
Midsalip, Zamboanga del Sur Mayor Leonida Angcap;
Pasuquin, Ilocos Norte Mayor Ferdinand Aguinaldo;
Concepcion, Tarlac Mayor Andres Lacson
Angeles, Pampanga Mayor Edgardo Pamintuan;
Subic, Zambales Mayor Jefferson Khonghun;
Camiling, Tarlac Mayor Erlon Agustin;
Lemery, Batangas Mayor Eulalio M. Alilio;
Teresa, Rizal Mayor Raul Palino;
Tanauan City, Batangas Mayor Antonio Halili;
Rodriguez, Rizal Mayor Cecilio Hernandez;
San Pablo City, Laguna Mayor Loreto Amante;
Ronda, Cebu Mayor Mariano Blanco;
El Nido, Palawan Mayor Niever Cabunalda-Rosento; and
Bataraza, Palawan Mayor Abraham Ibba
The list shows involvement of ten politicians from Mindanao including the Governor.
The resolutions emphasized "The exercise of the duties, obligations, powers, and prerogatives vested unto the foregoing local chief executives as Napolcom deputy under Section 51 (b) of RA 6975 as amended are hereby suspended accordingly."
Being stripped of the power would mean, police personnel detailed to the officials must go back to their mother units as they are no longer entitled to avail security personnel from the PNP and they could no longer give orders to their respective police forces and orders will only come from the national headquarters.
Cuy told Newsline.ph "The list was submitted by the Philippine Drug Enforcement Agency's (PDEA) who suspects that the officials are into illegal drugs trade or serving as protectors and being tagged as "narcopoliticians."
"They are in the watchlist of the PDEA, we just followed their recommendation," Cuy said.
"The watchlist prepared by PDEA is in line with the campaign of the president as he declared war against drug and their names will only be lifted upon the recommendation of  the PDEA."-Editha Z. Caduaya/Newsline.ph