Pa, daughter die as rebels ignore church plea to release abducted cop
Posted on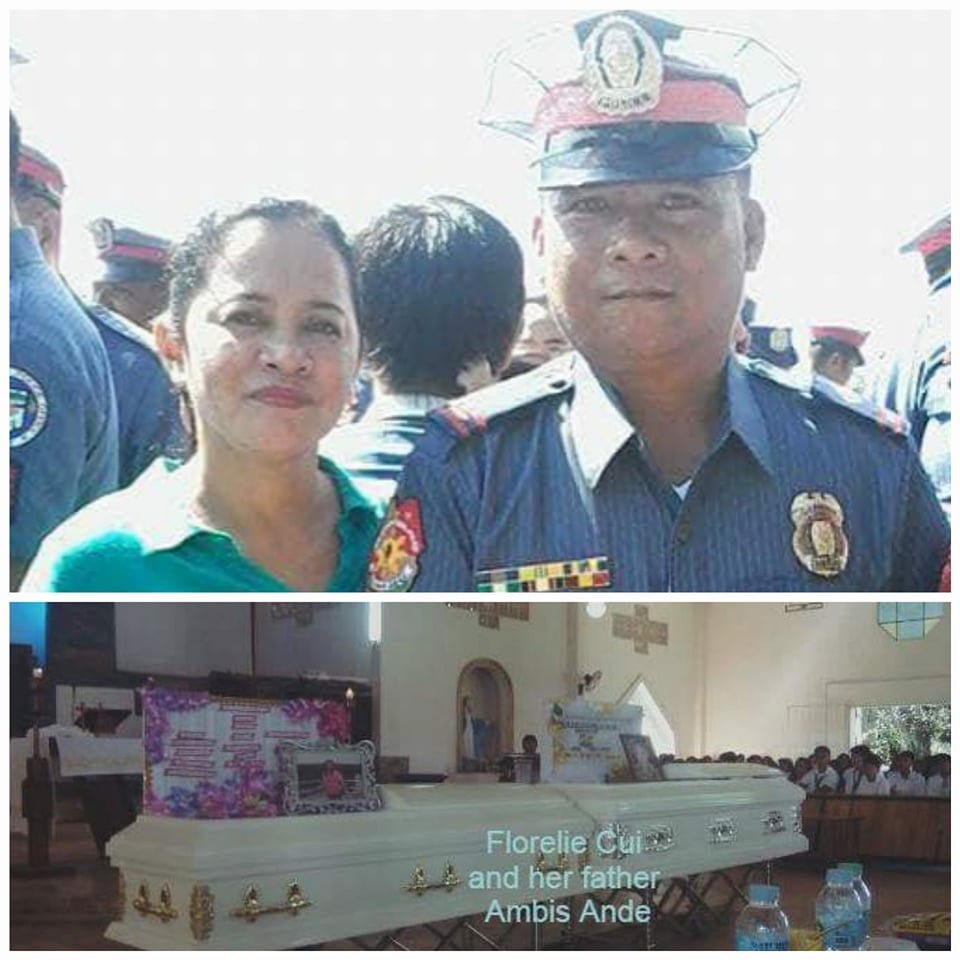 DAVAO CITY , Philippines — The leadership of the New Peoples Army in Southern Mindanao denied the appeal of the church to free abducted police officer Menardo Cui  to attend the burial of his wife.
Worse, another family member died while the wake was on going.
The rebels abducted Inspector  Cui, the deputy commander of Pres. Roxas Police station on  December 28, 2017 inside HMB  KTV bar in barangay Poblacion.
When his wife Florelie, who was  suffering from stage 4 cervical cancer, was informed about his abduction, Florelie  complained breathing difficulty and was brought to the hospital  on December 31,   she died on January 2, 2018.
The suffering of the family did not end there.
 
Florelie's father Ambis Ande, who was so emotional about his daughter's death and the absence of her husband, suffered heart attack dawn of January 14, which caused his untimely death.
Florelie and her  father died while waiting for Cui's release.
Kidapawan Bishop Jose Colin Bagaforo said they appealed and exerted all efforts to the rebel group to free Cui on humanitarian grounds, but their voice  fell into the deaf ears of the communist rebels.
The bereaved family waited for almost three weeks in the hope that Cui can see his wife and his father-in-aw but to no avail.
On January 19, Florelie and her father Ambis were laid to rest.
"Our efforts continue in the hope  that  Inspector Cui could be freed soon," Bagaforo told the Philippine News Agency.
The prelate has formed a crisis management committee, headed by Fr. Pol Paracha, but  nothing  good happened until now, no development is in sight.
Felomina Cui, Florelie's mother-in-law said the family sought the help of Bagaforo in their desire to have Cui in the final hours of Florelie's wake.
North Cotabato Police spokesperson Supt.  Bernard Tayong in an interview said "She was buried on Friday morning in Magpet, North Cotabato, while the husband is  still in the hands of the rebels."
"We were hoping, we expect him to be with his family on Friday morning but that did not happen," he said.
High school classmates of Florelie in a message said "Everyone Prayed that Menard will be released on humanitarian  ground, but the rebels are heartless–they killed two people, they kidnapped an innocent  person–they do not even know the crime that Cui committed."
As of this writing Cui is still in the hands of his captors.-Editha Z. Caduaya/Newsline.ph