Duterte wants NHA to establish IP ancestral village
Posted on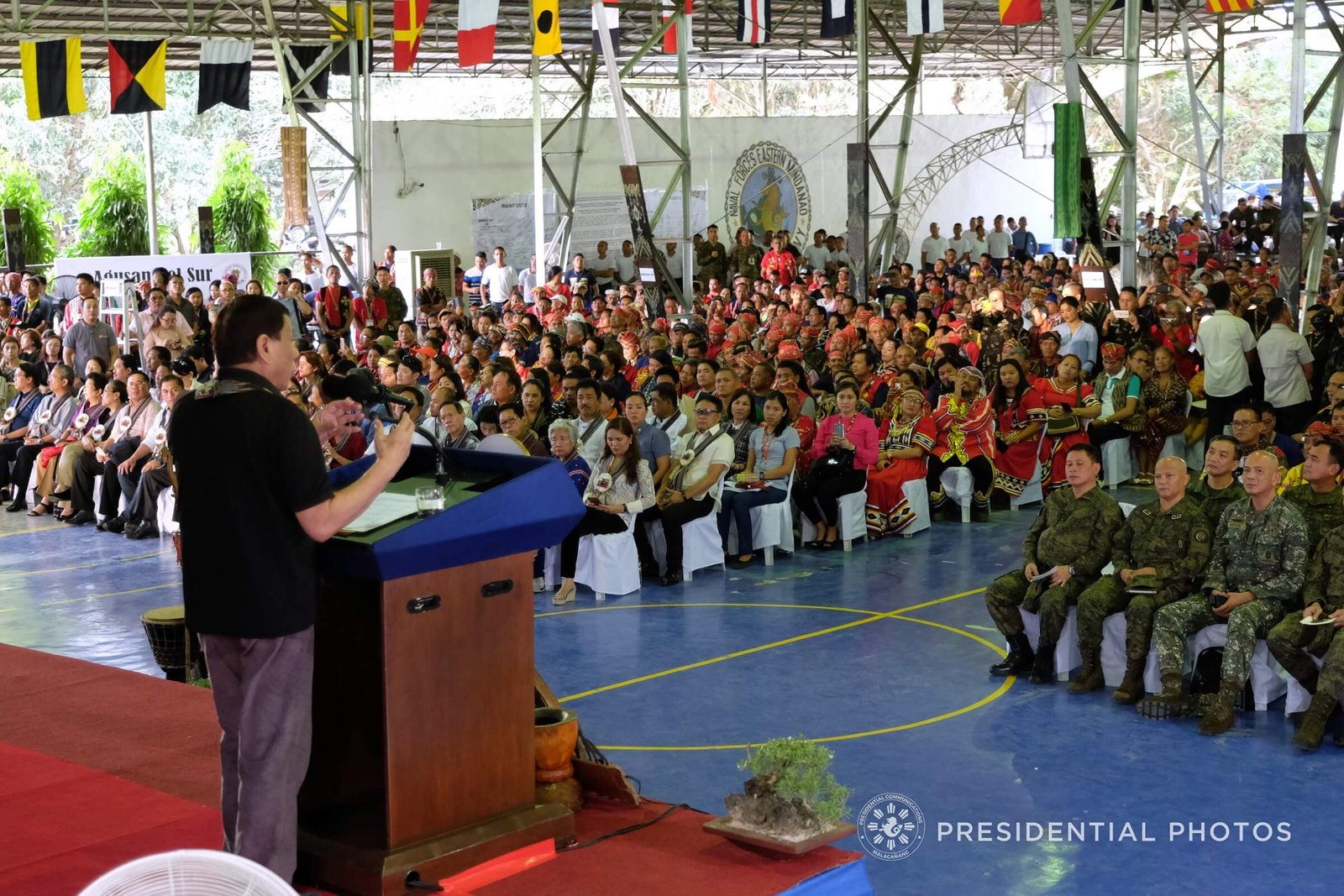 DAVAO CITY, Philippines — President Rodrigo Duterte wants the National Housing Authority to establish a housing program for the indigenous peoples in Mindanao.
Duterte gave the instruction to NHA General Manager Marcelino P. Escalada after his speech during the First IP Mindanao leaders summit inside the Eastern Mindanao Command headquarters in Panacan this city, Thursday, February 1, 2018.
"The President instructed me to establish ancestral villages for IPs of Mindanao, a house which will be built in their ancestral domain-a place they can call their ancestral home," Escalada described.
The ancestral home
As prescribed the by the President, Escalada said "There housing units will be constructed onsite, they will not be relocated to other areas, they will remain in their territory, because we do not want to detach them  from their comfort zones, they have to stay in their ancestral land, preserve their culture and protect their communities."
Houses in the IP village will be designed in accordance with the tribe's design.
A typical IP house, is typhoon and earthquake resistant because "Technologically their houses have a very strong strutural design," he said.
"Look at their windows, it is designed opposite to each other, there's air passage during strong winds, their stairs are open, you can observe they have an attic, which provide smooth air passage at the upper portion of the house, so their houses just swing during typhoon, strong winds and during earthquake, they have a good structural design but they just cannot offer technical and scientific explanation for that, but they have it, " Escalada described.
Datu Alamada of Arakan once explained to this reporter "Ang among balay bugnaw, kay ang hangin maglapos-lapos lang, daghan man mi ug bintana, unya ang among hagdanan sad abri."
(Our house is cold, because the wind passes through because our windows are opposite to each other, we have many windows, angn our ladders are open).
Peace offering
Duterte offered to establish an ancestral village as a gesture of government's goodwill and peace offfering to discourage them from joining the communist movement in the hinterlands.
As it is now, bulk of the communist insurgents are IP, because tey are vulnerable to threat and can easily be persuaded to join the movement becaus ethey never felt government's support.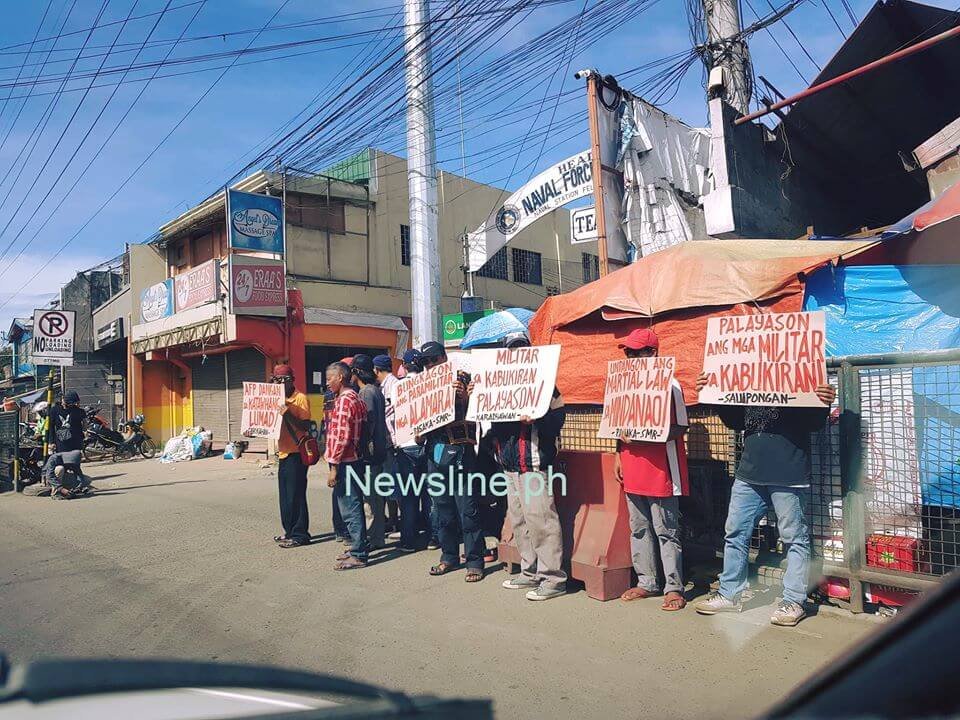 "You were not forgotten nor neglected, but you were not prioritized in terms of government support and services, that  is why I am giving it to you now," Duterte told the  cheering crowd in vernacular.
The IPs are the fast recruits of the rebels because they use government's inadequacy to persuade them, according to Duterte.
When he asked the leaders "Gusto pa mo mag-antos ug singkuenta ka tuig (Do you ant to suffer for the next 50 years)? the leaders shouted "No!"
It was then that Duterte asked them to stay away from the influence of the communist as he offered education for their children.
Duterte shared his his disappointment with the New People's Army (NPA), whom the military implicated to be behind the beheading of former rebel Mar Acevedo Bocales.
Military sources said Bocales was abducted on January 28 in Surigao del Sur.
Manifesto of support
Over a thousand leaders signed the manifesto of support to the government's peace building effort.
The manifesto stated that they are strongly supporting the government;s peace effort "We strongly express our commitment to support President Rodrigo Duterte whom we believe will help us shape and achieve our destiny as united indigenous peopls in Mindanao in our respective ancestral domains".
Leaders who attended the summit dubbed as Panaghiusa alang sa Kahusay ug Kalinaw (Unity towards peace and development) came from the four provinces of Mindanao.
A gift from Magbabaya
Lumad leaders described Duterte's offer as a gift from Magbabaya (God).
Datu Joel Balang, a Manobo from North Cotabato desceibed the government's program as a gift for life and gift from God through Duterte.
"Wala mi nagtuo nga ang among pag-ampo kay magbabaya, ipatuman ni sa President (We did not expect that our prayers to God will be implemented by the President)" Balang said.
"Dili ko kabalo ug unsaon pagsulti sa kalipay nga among gibati karon (I cannot describe the happiness I feel right now)," he addded.
Balang said, having an IP ancestral villahe has been the long dream of the tribe.
The cost
Escalada said the government intends to provide P20-million fund per tribe to put up an ancestral village, "BUt the Preisdent said we will first submit to him the plan and he willbe flexible as long as it conformsto the culture and desire of the Lumads (IPs).
Duterte told the crowd he entrust the housing project to Escalada "He almost resigned because of issues of money and corruption, he does not want to retire with a tainted record in government service, but I prevailed upon him and told him, just try your best, because I will really end corruption in government."
Reports have it, Escalada was about to tender his resigination last year when issue of Yolanda housing funds and the AFP-PNP housing was hit newspaper headlines, but Duterte asked him to stay.
Escalada worked with Duterte in Davao for over three decades,  the served  department head of the city's human resource and management  office and later appointed as city planning  and development officer.
The NHA manager is an ex-seminarian.-Editha Z. Caduaya/Newsline.ph