Duterte bans OFW deployment to Kuwait, 185 deaths recorded in 2 years
Posted on
DAVAO CITY, Philippines – President Rodrigo Duterte banned the deployment of Overseas Filipino Workers to Kuwait.
The announcement was made by the President  following the discovery of a Filipina worker in an abandoned apartment, Philippine authorities believed that the killing happened  for over a year now.
In a press conference Friday night, February 9,  at the Matina Enclaves, Duterte  asked the Kuwaiti government "When will this inhuman treatment of our Filipino workers end? When will the upliftment of their human dignity begin? "
An estimated 250,000 Filipinos work in Kuwait, 75 percent of which are domestic helpers. Some 300 Filipinos apply for work in Kuwait every day.
Duterte called on  OFW host country's  "To the Kuwaiti government and all other's where our OFW's work, we seek and expect your assistance in this regard. We do not need special treatment or privileges for our workers, we do expect respect for their dignity and basic human rights. Keep them free from harm and I implore you."
Two days ago, Kuwaiti police were out to serve an eviction order in an apartment in Al-Shaab, Kuwait, they were surprised to find a cadaver of a Filipina Household Service Service Worker who was later identified as Joanna Daniela Demafelis, inside a freezer, her body bore torture marks, an indication that she was strangled to death.
Demafeliz used to work for a Lebanese couple identified as Lebanese Nader Assaf and his Syrian wife, the police implicated them in the crime.
Duterte criticized the Kuwaiti government for their failure to protect the OFWs in their country.
"Sad to state, it seems that our government is as inutile as our foreign workers are helpless in the present state of things, This a national shame and yet to proclaim our OFWs the modern heroes of the republic. Our words and action simply do no match," Duterte emphasized.
Data from the Department of Labor and Employment showed, in Kuwait alone, in 2016, there were 82 reported deaths of OFWs. In 2017, the number increased to 103.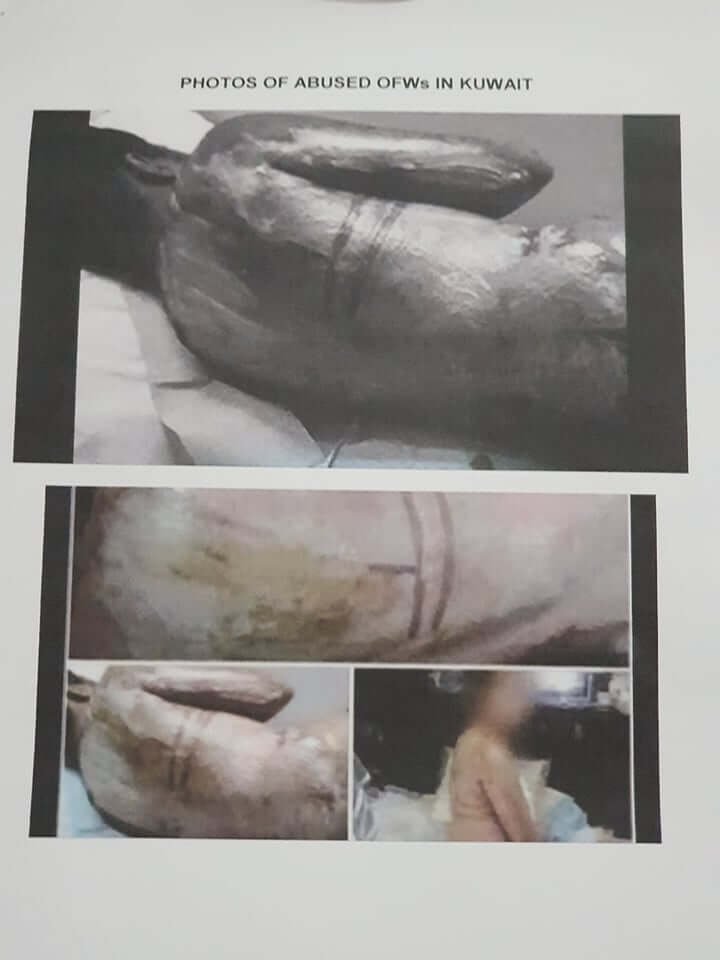 On Wednesday, Duterte met Saleh Ahmad Althwaikh, Kuwait Ambassador in Manila, at the Palace.
For the OFW in Kuwait who wanted to come home in the next 72 hours, Duterte said the government is offering them a flight.
Cases of sexual abuses, maltreatment and death involving OFWs whom the country considered as the modern heroes.
Meanwhile, Labor Secretary Silvestre Bello III said his agency will no longer process applications of Filipinos bound to work to Kuwait.
"In addition, I also suggest to our President in order to lift the suspension, the Kuwait government should already sign the memorandum of understanding (MOU) that has been pending with them for the last three years," he said. Bello was referring to an MOU that provides additional protection for OFWs in Kuwait.
Duterte emphasized, the Filipino is no slave to anyone, anywhere and everywhere.
"We send to you a Filipino worker, hale and hearty, determined to work his heart our in order to give his family a decent and comfortable life in the Philippines. Do not give us back a battered worker or a mutilated corpse," the President said.
In ending his speech, Duterte said "We do not intend to offend any government or anyone. But if a ban is what is needed, let it be so."-Editha Z. Caduaya/Newsline.ph