Davao's  Pastor Quiboloy detained in Hawaii for carrying $350k cash and gun parts
Posted on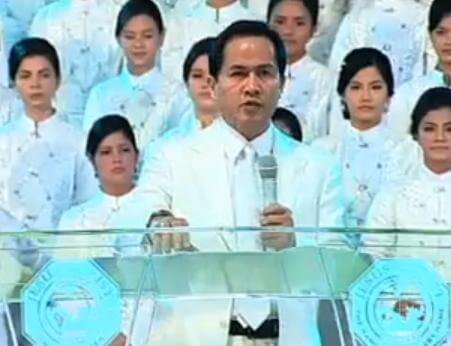 DAVAO CITY, Philippines — The leader of Davao-based Kingdom of Jesus Christ (KJC), Pastor Apollo C. Quiboloy and his staff Felina Salinas were detained in Hawaii for carrying $350,000 cash and gun parts inside their private plane bound for the Philippines.
The report written by Lynn Kawano of HawaiiNewsNow.com. says Quiboloy "Was detained at Honolulu's airport after federal agents found $350,000 in cash on the private plane he was on."
If converted to Philippine peso at P50 per 1$, the cash amounts  P17.5-million.
Among the six  passengers, only Salinas was arrested as she claimed ownership over the suitcase containing the money.
The incident happened last February 13, 2018, the report said Quiboloy, Salinas and four other church members were about to leave Hawaii Airport for the Philippines.
Federal  Customs and Border Enforcement agents conducted a routine check inside Quiboloy's Cessna Citation Sovereign and found the money and gun parts inside.
The HawaiiNewsNow.com added "court documents say, they found tens of thousands of dollars in cash — all in $100 bills neatly folded and stuffed inside socks in a suitcase."
The same HawaiiNewsNow.com report stated that Quiboloy's member Salinas, declared having $40,000, and not $350,000 which the authorities discovered.
Salinas was released out of detention after posting $25,000 bond.
Last Wednesday, February 14, Salinas, a US citizen and a resident of Makakilo, Hawaii, appeared in court she is facing charges "Of attempted bulk cash smuggling" the HawaiiNewsNow.com added.
The Federal law requires declaration if one carries more than $10,000.
Quiboloy was detained at the airport for almost a day but was allowed to leave for the Philippines via a commercial flight.
Citing unnamed source, the HawaiiNewsNow.com said Quiboloy was there for a concert.
Quiboloy has established a church Waipahu, Hawaii.
In a press statement Thursday afternoon, the KJC stated "We cannot comment on the issue at the moment." It added "He (Quiboloy) is still on his way to the country."
Quiboloy founded the  Kingdom of Jesus Christ, the name above every name, it has a massive followers worldwide  and is into various community service in the country and other parts of the world.
He started his evangelical mission in 1985.-Editha Z. Caduaya/Newsline.ph