Pres. Duterte visits Russian guided missile cruiser
Posted on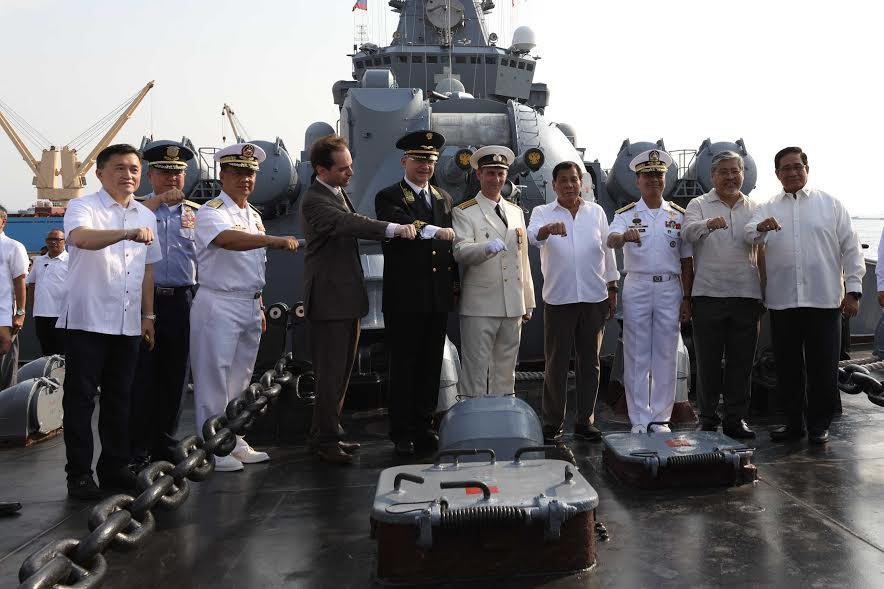 MANILA, April 21 — President Rodrigo R. Duterte visited Friday the Russian guided missile cruiser "Varyag" anchored in the Port of Manila.
The chief executive was accorded arrival honors at Pier 15 by the Russian Navy contingent.
Duterte was accompanied by National Security Adviser Hermogenes Esperon and Department of Foreign Affairs acting Secretary Enrique Manalo for the tour inside the war ship.
The President was fascinated as he inspect the upper deck where the short-range anti-missile rocket system is located, he showed interest as he was brought to the partition where the long-range anti-aircraft missile rocket system is placed, then later visited the ship's main weapon or the long distance anti-ship missile and anti-aircraft carriers are located.
"The Russians are with me, I shall not be afraid," the President said as he stood for a photo with the Russians.
The President also went to the ship museum as well as the Admiral's room for the guest book signing.
President Duterte earlier said he welcomed the invitation of Russian President Vladimir Putin to visit their country.
The President revealed he will visit Russia to forge stronger relations.
On November 2016, President Duterte met Russian President Putin at the sidelines of the Asia-Pacific Economic Cooperation (APEC) Summit in Lima, Peru.
In January, the President visited the Russian large anti-submarine ship Admiral Tributs, which also anchored in the country for a goodwill visit. (PNA)