Terror link? Former Marawi Mayor arrested for rebellion
Posted on
DAVAO CITY, Philippines—Authorities arrested Wednesday night former Marawi City mayor Fahad Umpar Salic on charges of rebellion.
Salic was arrested connection with Article 134 of the Revised Penal Code or "Rebellion or Insurrection" at a checkpoint in Brgy. San Martin, Villanueva at about 7:30pm. on his possible involvement with Marawi seige by the
terorrist Maute group.
Article 134 states "the crime of rebellion or insurrection is committed by rising and taking arms against the Government for the purpose of removing from the allegiance to said Government or its laws."
Defense Secretary Delfin Lorenzana said Salic's name surfaced as one of the supporters to the terror group.
Reports have it, said Salic's wife, Rasmia, is a cousin of Maute brothers Omar Cayam and Abdullah.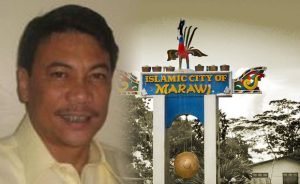 Salic is the ex-husband of actress Alma Morena.
Salic was with three other companions aboard a white Ford ranger with licensed plate AFA-1151, he was on his way to Cagayan de Oro City when arrested.
He is reportedly involved in narcopolitics and other illegal activities.
However, Salic denied any connection with the terror group saying he even denounced the Marawi attack.
Maute terrorists are now trapped in Marawi City, with battles raging as government forces attempt re-take the city.
Around 200 people have been killed, and around 2,000 civilians trapped by the fighting in the city.
On May 23, President Rodrigo Duterte placed Mindanao under Martial Law as the government troops run after the terrorist group. -Editha Z. Caduaya/Newsline.ph